Your iRefer123 Business
iRefer123 is an exclusive global rewards program that takes a cooperative approach to business by rewarding both customers and business owners. It is our goal to create the world's largest ONLINE and LOCAL loyalty-driven shopping community.
You can earn Cash Rewards simply by spending on goods and services from a listed online retailer, from a shop in the iRefer123 max reward Mall or from local in-store cash back registered business. You can encourage your friends and family to do the same, it's simple and you can earn rewards on ALL products or services that you buy.
Imagine being rewarded on all of your daily spending from your household needs such as food, clothes and utilities to luxury spending, dining out and holidays – there is an opportunity for everyone to earn more rewards more often.
The iRefer123 ONLINE business directory is growing daily and we are adding new IN-STORE local businesses to shop at all the time.
Being an iRefer123 member is easy. It requires no selling and no minimum spend, all you have to do is use our products and services and watch your wallet grow!
SPEND, REFER, PROFIT & DUPLICATE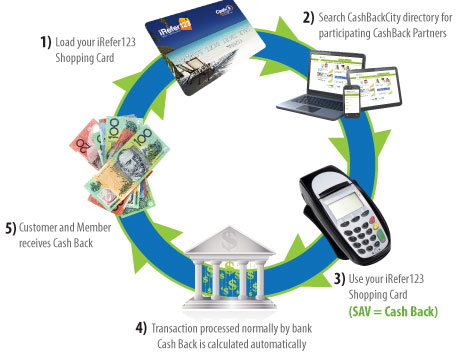 An iRefer123 business allows you to generate income from not just one source but from multiple income streams, allowing you to concentrate on what works best for you.
The multiple STREAMS of Income.
Cash back from shopping online and at participating local in-store retailers.
A loyalty reward bonus. Every time you spend more than a target amount you are entered into the draw to win fantastic prices such as holidays, shopping vouchers and weekends away.
A Cash Back Partner Bonus. In-store and online we pay you ongoing income when you refer a local cash back partner.
Flying Start Bonus. You will receive a lump sum payment when a sponsored member reaches a set shopping target
Team Commissions. You will receive a lump sum payment when your initial team reaches a set shopping level.
Club Level Bonuses. As each member reaches set global point targets, bonuses are added to the commission structure.
Six (6) Generation Matching Bonus. Income can be generated from up to six levels of your sponsored members.
Car Program: As a qualified Directors Club Member you will receive an ongoing contribution to your car payments as long as you continue to qualify.
Mortgage Payment: As a qualified Executive Club Member you will receive an ongoing contribution to your mortgage of choice as long as you continue to qualify.
Where can I Spend?
Online Shopping
Shop online at iRefer123's chosen partners and receive Cash Back Rewards on every dollar you spend. Members can pay for products with any payment method approved by the retailer. At last you can shop with the big brands and receive Cash Back on every purchase!
iRefer123 Max Reward Mall
Specialty designed online store for iRefer123 members. Shop at the iRefer123 Max Reward Mall to earn maximum rewards on all of your lifestyle, health and specialty products. The Max Reward Mall will pay you MORE on every dollar you spend!
In-Store
Members and customers can shop locally by purchasing an iRefer123 shopping card. You can purchase your card from iRefer123 and load it with a value between $50 - $1,000 and use it at any participating business.

2. Refer
Tell your friends to join and earn more! When you refer your friends to join the program you will earn a commission every time THEY spend!
3. Profit
Earn more whenever you refer a local in-store merchant to become an iRefer123 Cash Back partner. The more you refer, the more you can earn.
Duplicate
Duplicate your success and earn more by asking your friends, family and colleagues to refer their friends and family, and you can get more rewards.

Become an iRefer123 Cash Back partner
Why would a local or internet retailer provide Cash Back Rewards?
Our directory of Cash Back partners is called CASHBACKCITY (www.cashbackcity.net). It is easy to become a Cash Back business. We cater for all business types including retail, online and service professionals.
When you become an iRefer123 CashBack partner you will be instantly rewarded by increased customer traffic from iRefer123 customers and members ready to buy. Exposure in the CASHBACK CITY directory will provide businesses with access to a pool of loyalty driven consumers. When a customer shops with you they are guaranteed to earn rewards, making you more attractive than your competitors.
Other benefits include:
Fully Automated discount service - no need for vouchers
There is no change to your day-to-day business – just more income
The program is completely automated and runs independently
No special processing is required for local in-store retailers. The contribution is calculated automatically when the registered member processes their purchase on their iRefer123 Shopping card using the SAV button.
Develops positive relationships between locals and business in the surrounding area.
Improves trust in the community while providing a positive service.
The search for a local service is quick and easy for the potential customer.
Why wait to earn your rewards? To become a CASHBACKCITY business today, simply contact us to speak to a CashBackCity consultant contact us.